Hydraulic Solenoid Valve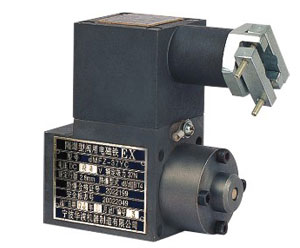 A solenoid consists of a coil surrounding a moveable iron core which is pulled to the operating position with respect to the coil when the coil is energised. Thus a solenoid is an electromagnetic mechanical transducer which converts an electrical signal into a mechanical output force.
The hydraulic solenoid valves are used in pilot circuits for controlling spools of multiple control valves and tilting angles of variable displacement pumps. They have a compact design and ease of service providing reliable control in aerospace, defence and marine applications.
The solenoid valves may have wet and dry solenoids, minimum current consumption with an exceptional force to size ratio and twin coil configuration. They offer maximum reliability in hostile environments.
Solenoid controlled direction controlled valves can be either single solenoid or double solenoid operated. Most DC types are available with various power rating from 12 V onwards and with solenoid coil indicator lights. These valves are available in sub-plate mounted type or modular/manifold type.
Being economical and easy to install, these valves feature integral waterproof coils, several push-on termination options and rugged metal covers and are designed for low-pressure applications such as pilot systems or power shift transmission control.